The most advanced rocket fin system on the market, the Max Q Aerospace aluminum fin can.
Available exclusively from Binder Design, all parts made "in house".
Fabricated with pride in the USA, each one is numbered and hand-signed as a work of art.

Sized to fit all common manufactured sizes of 3" and 4" airframe.
Tested with Performance Rocketry filament wound and convolute tubing, as well as Hawk Mountain filament wound tubing.

Please allow a three week lead time.
Please test fit upon receipt. We warranty fit within two weeks of receipt.



Custom "dot" finish shown below.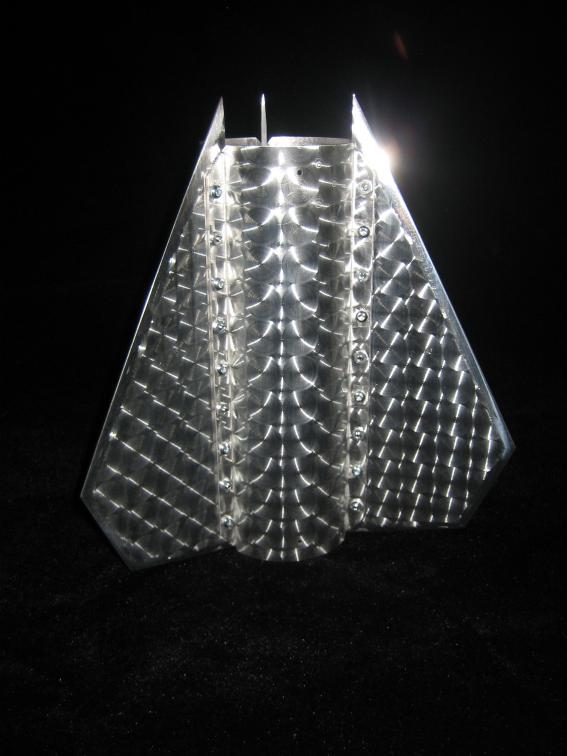 Total assembled weight: 4" fin can = 38.5 oz. 3" fin can = 22.5 oz. 54mm fin can = 13.9 oz.
4.0" Fin Can

Do you want to pull high g's, high mach numbers, or go for a space shot? This fin can will do the job!

CNC machined aluminum fin can for 4" rockets. This fin can is designed to fit 4" diameter fiberglass or carbon fiber airframes. Fins are machined from .125" 6061-T6 plate, beveled, and all tooling marks are massaged out by hand and orbital sander. It is a raw basic finish just to remove machining marks and deep scratches in the metal. You can fly it as is, or even paint it if you wish. Comes with assembly kit that includes Torx screws, allen set screws, Locktite threadlocker, Torx bit, and allen wrench all in a plastic case. We also include a Max Q Aerospace vinyl decal for your rocket!

$199.99

3.0 Fin Can

Do you want to pull high g's, high mach numbers, or go for a space shot? This fin can will do the job!

CNC machined aluminum fin can for 3" rockets. This fin can is designed to fit 3" diameter fiberglass or carbon fiber airframes. Fins are machined from .125" 6061-T6 plate, beveled, and all tooling marks are massaged out by hand and orbital sander. It is a raw basic finish just to remove machining marks and deep scratches in the metal. You can fly it as is, or even paint it if you wish. Comes with assembly kit that includes Torx screws, allen set screws, Locktite threadlocker, Torx bit, and allen wrench all in a plastic case. We also include a Max Q Aerospace vinyl decal for your rocket!

$169.99

54mm Fin Can

Do you want to pull high g's, high mach numbers, or go for a space shot? This fin can will do the job!

CNC machined aluminum fin can for 54mm rockets. This fin can is designed to fit standard 54mm fiberglass or carbon fiber airframes. Fins are machined from .09" 6061-T6 plate, beveled, and all tooling marks are massaged out by hand and orbital sander. It is a raw basic finish just to remove machining marks and deep scratches in the metal. You can fly it as is, or even paint it if you wish. Comes with assembly kit that includes Torx screws, allen set screws, Locktite threadlocker, Torx bit, and allen wrench all in a plastic case. We also include a Max Q Aerospace vinyl decal for your rocket!

$139.99

38mm Fin Can

Now you can go extreme in 38mm diameters! Our newest fin can in the lineup will take whatever you can throw at it. Same quality and sturdy construction as the larger sizes.

$119.99

6" diameter Fin Can


4 fins standard.

$600.00